Roof Waterproofing is a major issue here in Pakistan because of House or Building Construction standards are no longer maintain. Polymerized waterproofing chemicals are the best solution to avoid these future panics. This is main reason of penetration water from roofs, walls, wall dampness and water penetration destroying the Cement PSI strength not the surface and walls are not PAINT ABLE until waterproof coating done.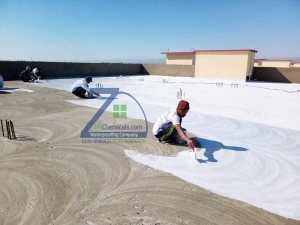 Roof waterproofing is an extra layer of protection placed on a finished roof. Functioning as a method of enhancing its ability to stay safe from rain, hail, wind and daylight, the waterproof coating is typically a thin elastomeric coating and polymerized cemented coating layer that seals the materials of the roof, effectively establishing a barrier between the weather and therefore the actual roof. Once applied properly, a waterproofing coating will add years to the lifetime of almost any form.
Zem Chemicals offering best solution of Roof Waterproofing for any type of surfaces like RCC Roof, Asbestos Sheets, G.I. Sheets and other concrete based. Just remember that every surface needs proper application according to the penetration damage level which is our key to success to achieve Best Waterproofing results.
We offer 3 years and 5 years Warranty for Roof Leakage Treatment and application depended on the condition. Don't worry, our physical inspection survey is free :).