This is the most common issue for every 11th House in Karachi and through out Pakistan facing Bathroom Leakage Problemand usually contractors and plumbers are lacking in their job while construction.
After doing many Bathroom Leakage Waterproofing, we have found 6 basic source of Sewerage Leakage Problem in Bathrooms as shown in above image.
Bathroom Sewerage Leakage Waterproofing could done by injecting chemicals on drains and repairing concrete collars of draining points as shown  number 2 in image above.
Does Chemical Injection Fix Bathroom Leakage?
There 2 conditions and leakage types in bathroom. Sewerage  Leakage can be fix but there are 60-70% chances to waterproof the bathroom just because it is depended on the condition of sewerage pipes from inside. That treatment just like you are going to dismantle your bathroom for leakage, you can do chemical injection for chance and if fixed then you can rely 3-5 years other wise you have to dismantle and replace the underfloor pipes.
How to identify the Sewerage Leakage?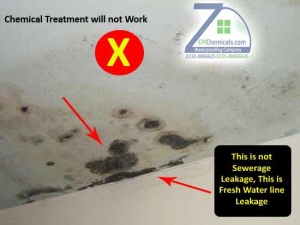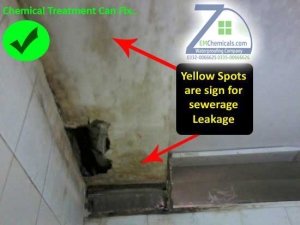 Bathroom Leakage Treatment Process is very simple, we do cleaning and make sure that all draining points shouldn't be blocked, use blower gun to drain existing water then injecting the chemical and use blower to make sure to drain chemical pass to main drain pipe.