Over time Asbestos Sheets Roof Waterproofing can avoid to get porous, meaning cracks and penetration. Leaked AC Sheet brings not only a pause in business as usual, but left undeterred a leak can threaten the integrity of the whole structure.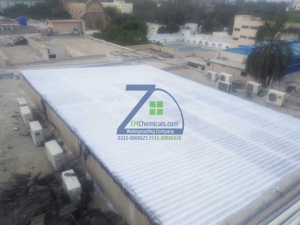 What starts as a trickle could eventually bring the whole place down. A leak must be dealt with quickly, but many building owners are reluctant to face the costs of dismantling and disposing of their leaking asbestos roof.
Zem Chemicals offering AC Sheets Waterproofing Services with membrane which is also make it heat proof also. You can get in touch with us for free estimates and inspection visit.